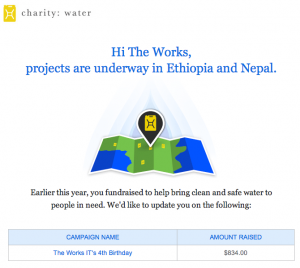 We are so stoked here to have received an email recently from charity: water. They've kindly informed us that the money we raised (with your help) back in May for our 4th birthday has been sent into the field and the work has begun in Ethiopia and Nepal! According to charity: water, this is the first big step after collecting the money from the campaign once it has ended. The full process from campaign end till project completion takes up to 18 months and we're in the 3-6 month range right now. The steps that are remaining include:
6-9 Months – Report on the work that's been completed.
9-12 Months – Finish the work and train the communities on how to manage the new water point.
12-15 Months – Collect photos, GPS coordinates, and final information.
15-18 Months – Go over final information, verify data, and send the reports to us.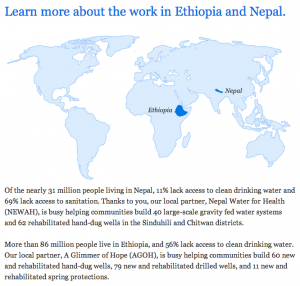 So there's still a lot to be done, but it's so exciting to receive the information on where the money will go, which organizations are helping, and which communities it will benefit! We hope you're as excited by this news as we are. Stay tuned to the blog here and we'll continue to update you as we catch wind of any developments.  And again, thank you so much to all who helped support this campaign and especially to all who donated!
In other charity: water news, they've very recently won a Global Impact Award from Google! With the help of Google, charity: water will be launching a $5 million project to develop and utilize remote sensor technology that will be able to transmit real-time data back to charity: water, their partner organizations, and eventually to the donors telling them if water is flowing at that particular water point. This will help the charity to advance transparency in their future projects and also sustain the wells. Thanks to this award, they will develop and install 4,000 remote sensors in existing and new water projects over the next few years.
Charity: water says they and their partners usually monitor the wells they've dug on as frequent of a basis as they can, but because they've now funded almost 7,000 water projects spanning 20 countries, it's quite difficult to do this with much efficiency. These remote sensors will allow them to keep an eye on the maintenance of each well far more affectively than they would ever be able to do otherwise.
This is so exciting for the future of charity:water, the less fortunate people that they're helping, and also us – random campaigners – as we will all be able to continue to see the real results that are produced from a charity:water project!