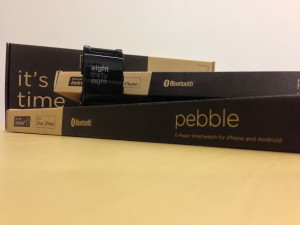 The invigorating, upbeat intro to Imagine Dragons' hit song comes to mind every time I look at the box. That's right ladies and gentlemen….the Pebbles have arrived!!
Well, some of them anyway. To celebrate, I may have gone overboard on an impromptu photo shoot (below). You be the judge.
The hard-working folks at Pebble Technology have been hammering out black Pebble watches for a little over a month and have sent out over 40,000 in total so far. They needed to get the black ones out first because 1) they were the most popular color ordered and 2) because they were able to make more of them, more efficiently by staying with one color at a time. This is how it will go until they get all of the Kickstarter Edition watches made and shipped out, then they'll have made watches of all 5 colors and can begin making them however they wish. That said, they've also just informed us that the Cherry Red Pebble is the next color to be sent into production. My order consisted of 4 Jet Black Pebbles, 1 Cherry Red, 2 Arctic White, and 3 Grey, so I'm anxious to see all of the rest of the line in the coming weeks.
Review
Basics
I must say, I'm impressed. The packaging is very nice and strongly resembles Amazon's Frustration-Free Packaging that a Kindle would come in. So that's a nice start, and gets you to your precious a few seconds faster. Once opened, the package revealed just two things: the Pebble and the USB magnetic charge cable. I was happy to feel the watch strap that comes with it was much more flexible and softer than I imagined it would be from the pictures. Keep in mind though, one of the great 'forward-thinking' features of this watch is that they used a standard 22mm watch strap so that you can swap it out for almost any other kind.
Hardware
After I finished drooling, I actually took it out of the package, put it on, and powered it up. The bootup time is extremely fast, which is nice. It's a great piece of technology, sure, but who's going to want to wait 30 seconds or more for their watch to power up? So you only have to wait around 5 seconds to get to the setup screen where it asks you to pair the device to your smart phone (Android or iPhone – Windows Phone and Blackberry aren't currently supported)(although I hope they change their mind on the Windows Phone front – I quite like WP). Pairing is easy and not much different than a bluetooth earpiece or speaker, except that when it's finished pairing, you want to go a step deeper into the settings under the paired device to enable notifications. Once this is all finished, you'll want to check the Pebble app to see if there's a firmware update for your watch. This is also fast and easy.
By this time, you'll have most likely already had the pleasure to push a few of the minimal amount of buttons on the Pebble and my experience with this was a few seconds of hesitation and doubt as I realized they're much harder to push in than I expected. A few pushes later, however, I was thankful for this detail as it makes it very difficult to accidentally push a button with the top of your hand throughout daily activity, which is definitely a pro.
The most impressive hardware feature, however (besides the internals of course), is the screen. It's a decently high resolution display for this kind of implementation at 144×168 pixels and the contrast is really great, too. This proves helpful when reading long texts or just reading anything in general at a glance without having to pull the watch up to your face. This display also has remarkable readability in direct sunlight – almost better than in normal light! And of course, for reading the watch in the dark, the backlight is very handy, and can be activated, thanks to the accelerometer, with the flick of your wrist. Regarding the display and how clear it is, I've been saying how if you look at it at the right angle, it looks like the time is painted on black paper – like it's not even a digital display – it's great.
Software
The hardware – high resolution, backlit, e-paper display; accelerometer; magnetometer; waterproof, small, lightweight casing – is fantastic. But the software is what is going to make this watch. So far it's certainly setting the stage. Firmware update 1.9 came out just a couple days ago and is a welcomed update that includes a lot of navigation changes to make browsing the menus and watch faces much more fluid and logical. It also adds a couple new watch faces, and….wait for it…a game! That's right, you can now play the classic Snake game on your Pebble! It's pretty addicting and works very well – not to mention it's a great first major, non-watch-like addition to the line-up, showing off a glimpse of possibilities available to Pebble.
The music app is great, too. It's nice that they made sure to include it as an out-of-the-box feature since obviously there's not a ton of 3rd party apps available right now as they've not yet released the SDK to the public. I found that it works very well though and there's hardly any delay between pressing the button on your Pebble (Play, Pause, Next, or Back) and your phone obeying.
The two biggest collaborations I'm looking forward to are with RunKeeper and IFTTT. RunKeeper integration will allow your Pebble to display all the vital stats about your workout so you can keep your phone in your pocket or quit awkwardly bending your arm to see the screen on your armband.
Verdict
I've only been able to think of a couple things I'd like to see them add, but that's the nice part about this being such a new product and a young company – they're going to be pushing new updates and features very actively to the Pebble in the coming months. While this may seem like a con – that you have to wait for the 'extra-cool' features – I like to think of it as a pro – that you get to watch the product grow and develop and really feel close to the whole project – like you're an employee beta testing for some new-fangled, very strong-featured, non-beta-like product.
One cool thing I'd like to see is the option to have your phone answer a call with speakerphone enabled automatically when said call is answered with Pebble. That way you can start talking right away if your phone is close by but your hands are full or wet (ie. doing dishes). The other things are even smaller, like the option to extend the backlight timeout. Other than that, I'm very pleased with the Pebble and I can't wait to see what the SDK will bring out of it.
Ok, I'll stop rambling and we can get to what you really came here for – the photos. Don't forget to sound off in the comments below. What are you looking forward to most in regards to the Pebble? What's your favorite feature so far?